---
Visit our sister
GSA/UK organization:

---
Designed by V.M.S.
© 2004-2022
All Rights Reserved
---
The Benefits of GSA Membership
Link to a global network of scholars and activists and our sister organization GSA/UK.

The opportunity to participate in GSA networks and activities, including conferences, meetings held by thematic sub-groups and other events.

20% reduced fees for attendance at annual or other Association conferences and events.

20% savings on the journal Globalizations, published by Routledge.
---
Globalizations Journal (Special Rate of $45.00 available for GSA Members!)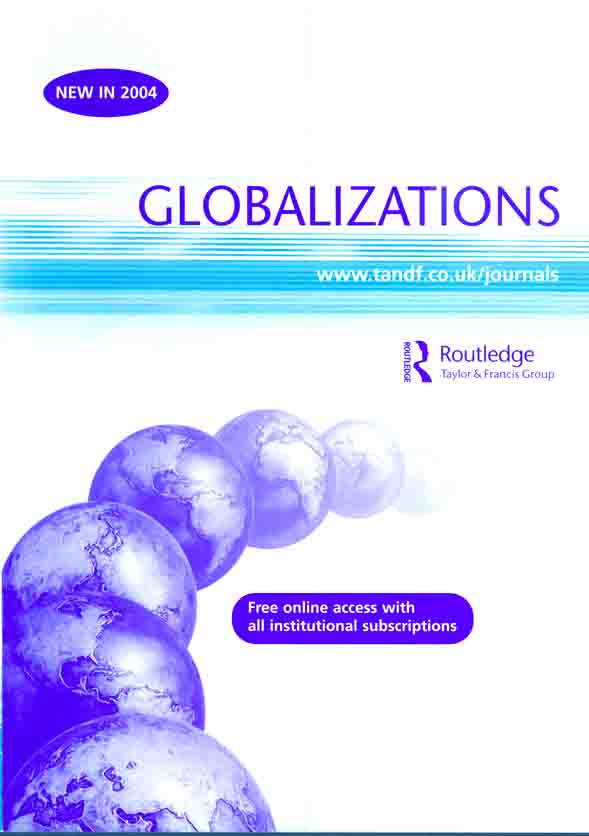 Globalizations seeks to publish the best work exploring new meanings of globalization, bringing fresh ideas to the concept, broadening its scope, and contributing to shaping the debates of the future.
The journal is dedicated to opening the widest possible space for discussion of alternatives to a narrow economic understanding of globalization. The move from the singular to the plural is deliberate and implies skepticism of the idea that there can ever be a single theory or interpretation of globalization. Rather, the journal will seek to encourage the exploration and discussion of multiple interpretations and multiple processes that may constitute many possible globalizations, many possible alternatives.
The journal will be open to all fields of knowledge, including the natural, environmental, medical, and public health sciences, as well as the social sciences and humanities. Globalizations will especially encourage multidisciplinary research and seek to publish contributions from all regions of the world.
ISSN 1474-7731
For more information or to subscribe visit: www.tandf.co.uk/journals
---
International Critical Thought Journal
(Special Rate of $45.00 available for GSA Members!)
Official publication of the Academy of Marxism, Chinese Academy of Social Sciences (CASS)
ISSN 2159-8282 (Print), 2159-8312 (Online)
---
Get both the Globalizations & International Critical Thought Journals for $90.00!
Not a GSA Member? Become a member at the special rate of $40 and take advantage of these special offers.