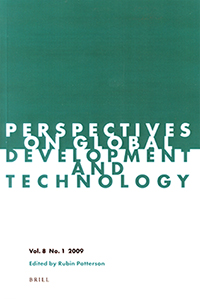 CALL FOR JOURNAL PAPERS
With much of the US reopening, The Global Studies Association of North America is looking forward to meeting once again in person, but travel, especially globally, is still uncertain for many people at this point. We have also been unable to coordinate with a university by our normal June meeting date, so we feel it necessary to wait another year before we are able to organize another conference.
Nevertheless, as we do each year, we are again going to publish a set of papers in the journal Perspectives on Global Development and Technology. This year we are interested in any topics that focus on globalization, but especially the following:
Globalization and the COVID-19 Pandemic
Are We Entering a Post-Neoliberal Era?
The Cold War between the US and China
Papers must be complete including citations and references, be between 2000 and 8000 words (not including references), and be formatted according to the following style guide:
GSA Paper Submission Instructions >>
Deadline to submit papers is August 1, 2021.
Send your paper as a Word document to Jerry Harris at gharris234@comcast.net.
---
IN MEMORY OF DR. PAUL KENNEDY
The Global Studies Association (UK) 2021 Colloquium
You are invited to join the GSA for a series of online events over the course of 2021, bringing together key figures in global studies.
Replacing the UK conference, this colloquium allows us to make and regularly re-join conversations on the global issues of our day and how they impact our understanding of the global system.
The series is dedicated to our friend, colleague, and founding GSA member Dr. Paul Kennedy.
Event 3: Old and New (In)equalities. Migrations, Mobilities & Integration in a Pandemic Era


Professor Laura Zanfrini (Università Cattolica, Milan) & Professor John Eade (Roehampton)

June 21, 2021, 2:00 PM - 3:30 PM GMT
BOOKING: To register your place visit the event page at https://gsauk.co/23rd-april-december-2021-event-information-dates-for-your-diary/.
CONTACT: For more information or to register interest in our future events, please contact the Programme Coordinator mrtariqkhan2@hotmail.com or GSA organisers Alison.Hulme@northampton.ac.uk, S.Arun@mmu.ac.uk and Jill.Timms@coventry.ac.uk.
---
International Conference
Liberalism and/or Socialism: Tensions, Exchanges and Convergences from the 19th Century to Today
University of Lorraine – Nancy (France)
October 21-22, 2021
The fall of the Berlin Wall led Francis Fukuyama in 1992 to predict the triumph of liberal democracy. However, the terrorist attacks of 2001, the economic crisis of 2008, Brexit and the Covid crisis have resulted in the reappearance of debates about the relationship between the state and the individual, ranging from the representation of the former in democratic countries to the distribution of wealth.
---
NEW BOOKS: