---
Visit our sister
GSA/UK organization:

---
Designed by V.M.S.
© 2004-2017
All Rights Reserved
Welcome!
You are global visitor
GSA Conference 2018 Panel Abstract Submission Guidelines
June 6 - 8, 2018
Globalization, Race, and the New Nationalism
Seventeenth Annual Global Studies Association of North America Conference
Sponsored by Howard University, Washington, DC
As W.E.B. DuBois noted, racism is the "Achilles heel" of American democracy. White nationalist and white supremacy ideologies and movements are old problems, but globalization is the current economic, political, and social context through which they are unfolding. This important conference will investigate the subjects of race and the new nationalism that are currently roiling our nation and the world.
We welcome presentations on a wide range of perspectives within this and other topics. To submit a panel abstract, please include the following in the body of an email message:
A 100-word abstract,
Your full name,
Your affiliation,
The email address where we can contact you.
Send your abstract by March 15, 2018 to Jerry Harris at gharris234@comcast.net.
New Books:
Global Capitalism and the Crisis of Democracy
by Jerry Harris
---
God, Guns, Gold and Glory
By Lauren Langman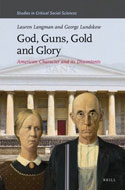 ---